There are many ways by which Northern stereotypes of "the south" and Western stereotypes of "the east" get mixed and shuffled - like hearts and diamonds called a flush. It's not the color of the cards that proves the claim.
Clarissa Shields
proteges from the USA will have a lot of competition in future olympic boxing matches. As they get more integrated into African city economies, African women may be
million dollar babies
.
From LATimes: Op-Ed: The Heroic women of Africa are Standing Up to Boko Haram"
Yadji Moussa's niece in Yenwa
"As a woman and a mother, I pray for the safe return of all the abducted

girls. I also applaud the strength of the women who continue to fight for them. They are African women — women who can function under the harshest conditions, who in the face of murder and rape continually stand up to fight. Strong. Resilient. Powerful. It is time for the world to put away the image of African women as victims and see them as the everyday heroes they are."
Leymah Gbowee
writes this in conclusion to
her op-ed in the Los Angeles Times
this morning. The headline is a breath of fresh air. As awful as the images of disempowered African women are, as horrible as the statistics of rape and sex crime and modern slavery are, they do not mean African chicas are "weak".
Markus Cho Assabe worshipped his mom
Gbowee hits the nail on the head. We read the word "victim" and we think the word "weak".
Growing up in a society which discriminates against you, denies you jobs, rights, and levels of education, can indeed weaken you. But they can't do it to you half-heartedly. What does not kill the women in Africa - especially on the borders between Christian south and Muslim north - makes them stronger.
I've already written about the Cameroonian women, the "free women", former prostitutes and outspoken marchers I knew in the 1980s. A respected anglophone man, Augustin Achu Kum of Bamenda, was elected to come warn me about the woman Suzanne Ateh who had become my "African Mama". It was good, he said, that she was taking care of me and making me chop, and they were happy for me. "But" he warned me. "She is mighty! A woman should not be mighty!"
"

Myth and stereotype blind the world to the reality of what African women are accomplishing"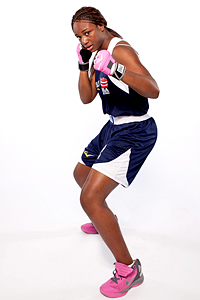 espn-c.shields
Marcus often was in a position of having to deliver messages for the men, and it's a shame if he's remembered only in my "should not be mighty!" quote. Marcus put his own mother on a pedestal, and he was repeatedly elected president with a majority of both women and mens vote in the Anglophone Meeting Society. Suzanne would stand up, toe-to-toe with Marcus, and relay the women's opinions. He had to respect their votes while not being seen as a pushover by the gnarlier men.
Suzanne could not read or speak other than Pidgin English. She was, well, past her prime as a prostitute, making a spare living serving beer to military men. But over the two years when I ate with her and drank mimbo (it was a big deal if I didn't show up), I saw her as the person I'd want to be if I had only the footing she had. She used the cards she was dealt and played them with cool honor. "My husband done over-beat me plenty" she said about her short marriage. She said she was not a woman who could take that, she beat him back and left. Every anglophone meeting, she stood and spoke for the women, and made no bones.
The word "accomplishing" is tough, since it's relative. Suzanne's accomplishments were independence and self-respect and fearlessness. It is difficult to achieve economic gains when the deck is marked and Men deal for the house.
1986 hike on upper plateau near northern Nigeria border northwest of Banyo. No roads, no English, no French.
The deafening chants of outraged African women across the cities of Nigeria over Boko Haram are not new, not a novelty. Women on the other side of the Atlantic have grow up in a tough continent, to be sure. But don't mistake what Boko Haram is about. It's another bullyboy trying to put a genie back in a bottle.
It has already changed considerably since my time there. Eric, our head tech from Accra, already considers women to be equal of men in Accra and other cities. But that is the threat that Boko Haram is reacting to, giving Africa a bad stereotype in the process.
Not all women make great leaders. Indeed, the worst of leaders are often people who have been bullied themselves. But an economy which is free to choose its best from a larger pool of cards will always build a stronger hand. Africa has some powerful cards in its discard pile, and as they learn to mix their suits, and become a melting pot of races and tribes and sexes, Africa will quickly come up aces.
"[Clarissa] Shields credits her grandmother with encouraging her not to accept restrictions based on her gender.
[6]" - wikipedia
(Take pictures of your pictures in albums so you can prove you took the picture)